Estimated Reading Time:
2
minutes
One of the largest central banks ends QE. End of an era for Japan: Large-scale money printing was one of the three official legs of Abenomics.
In terms of the absolute mountain of assets the Bank of Japan purchased over the years, it is one of the top three QE monsters, along with the Fed and the ECB. In relationship to GDP, the BoJ's total assets are #2, behind the tiny Swiss National Bank, which runs the unique racket of using the overhyped strength of the Swiss franc to print large amounts of it and buy securities denominated in foreign currencies, including large amounts of US stocks; but it's not buying securities denominated in Swiss francs.
Total assets on the BoJ's balance sheet generally decline every third month as large amounts of long-term bonds mature and are redeemed, which is when the BoJ gets its money back, and the bonds come off the balance sheet. For this reason, we look at the three-month moving average of the increases in total assets.
As of its balance sheet through August 31, the three-month moving average of total assets increased by an average of only ¥690 billion ($6.3 billion) per month, the smallest increase since 2012, before Abenomics became the economic religion of the land. This marks the end of Abenomics QE:
The BoJ's blistering QE binge started with "Abenomics," the economic religion imposed on the land in 2013 under Shinzo Abe, Prime Minister from September 2012 to September 2020. One of the three official legs of Abenomics was massive amounts of money printing. It culminated with the huge burst in the spring of 2020. But all that is now history.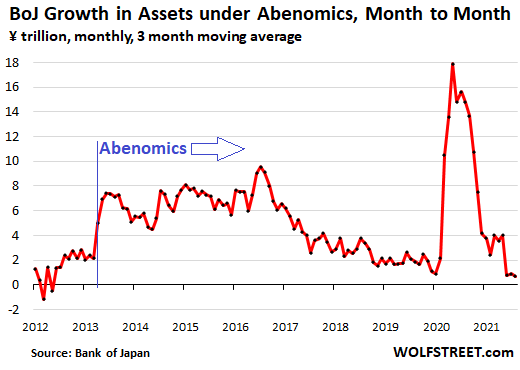 While the Fed has set the stage to begin tapering its asset purchases later this year, and while the ECB is ogling the Fed for inspiration, the Bank of Japan, without making a lot of hoopla, has already cut its asset purchases to the bone.
*****
Continue reading this article, published September 7, 2021 at Wolf Street.
https://thepricklypear.org/wp-content/uploads/istockphoto-911420652-170667a.jpg
338
513
Wolf Richter
https://thepricklypear.org/wp-content/uploads/logo_v12_404x90.png
Wolf Richter
2021-09-15 01:00:37
2021-09-12 06:33:32
Bank of Japan Ends its Massive QE that Started When Abenomics Became Economic Religion of Japan