Consumers Expect Surging Inflation to Crush the Purchasing Power of their Labor: Fed's Survey
Estimated Reading Time:
< 1
minute
Consumers are picking up on the rise of inflation, and the Fed, which has been trying to heat up inflation, is pleased. The Fed watches "inflation expectations" carefully. The minutes from the March FOMC meeting mention "inflation expectations" 12 times.
The New York Fed's Survey of Consumer Expectations for April, released today, showed that median inflation expectations for one year from now rose to 3.4%, matching the prior highs in 2013 (the surveys began in June 2013).
But wait… the median earnings growth expectations 12 months from now was only 2.1%, and remains near the low end of the spectrum, a sign that consumers are grappling with consumer price inflation outrunning earnings growth. The whoppers were in the major specific categories.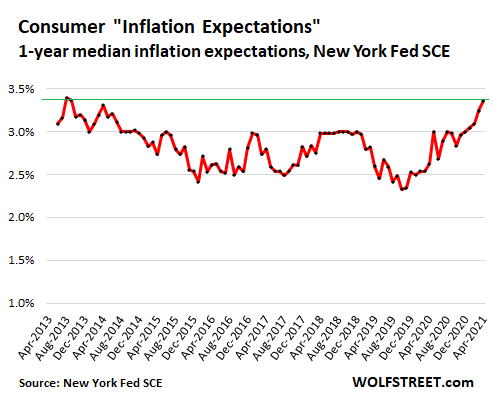 So even as consumers expect their earnings to grow by only 2.1% over the next 12 months, and their total household income by only 2.4%, according to the survey, they expect to face these whoppers of price increases:
Home prices: +5.5%, a new high in the data series
Rent: +9.5%, fifth month in a row of increases and new high in the data series
Food prices: +5.8%
Gasoline prices: +9.2%
Healthcare costs: +9.1%
College education: +5.9%.
Sadly, the Fed doesn't ask consumers about their expectations for new and used vehicle prices, which are now in the process of spiraling into the stratosphere. It would have been amusing to see what consumers expect those prices to do over the next 12 months.
*****
Continue reading this article at Wolf Street.
TAKE ACTION
As we move through 2023 and into the next election cycle, The Prickly Pear will resume Take Action recommendations and information.
https://thepricklypear.org/wp-content/uploads/higher.jpg
339
509
Wolf Richter
https://thepricklypear.org/wp-content/uploads/logo_2023.png
Wolf Richter
2021-05-15 01:05:40
2021-05-11 12:34:40
Consumers Expect Surging Inflation to Crush the Purchasing Power of their Labor: Fed's Survey