Dip in Mortgage Rates Not Slowing Housing Bust 2: Mortgage Lenders Sing the Blues
Estimated Reading Time:
2
minutes
It just keeps getting worse. 
Mortgage applications to purchase a home are a forward-looking indicator of where home sales volume will be. Existing home sales that closed in November already plunged by 35% year-over-year, the 16th month in a row of year-over-year declines, making for a historic plunge. And mortgage applications went in the wrong direction from there, despite the dip in mortgage rates.
Applications for mortgages to purchase a home fell to the lowest level since the Christmas week of 2014, and beyond the lows of 2014, we have to go back all the way to 1995, according to data from the Mortgage Bankers Association today.
Compared to a year ago, purchase mortgage applications have plunged by 44%. Even during Housing Bust 1, mortgage applications didn't plunge that much year over year.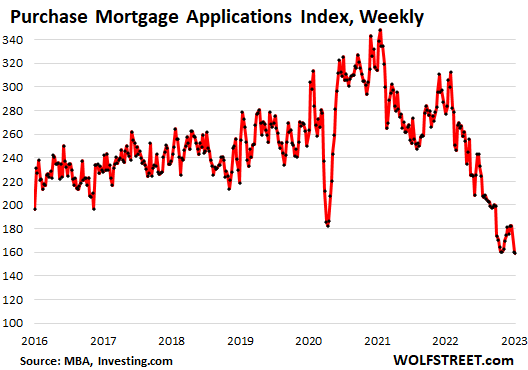 That little dip in mortgage rates had no impact. This drop in mortgage applications came despite the dip in mortgage rates that started in mid-November from the 7.1% range and hit a low point in mid-December at 6.28%. In the latest reporting week, the average 30-year fixed rate was at 6.42%, according to the Mortgage Bankers Association today.
The drop in mortgage applications indicates that it doesn't really matter to the volume of home purchases whether the 30-year fixed rate is 6.3% or 7.1%. The difference is just cosmetic. The current home prices – though they have come down in many markets, and have come down hard in some markets – are still simply way too high.
Refinance mortgage volume has died: Applications to refinance a mortgage have collapsed by 86% from a year ago, despite the invisibly small uptick in the latest week. Since October, refinance applications have hovered at the lowest levels since the year 2000. And this makes sense because hardly anyone would be refinancing a 3% or 4% mortgage with a 6% or 7% mortgage, except when under duress to extract cash.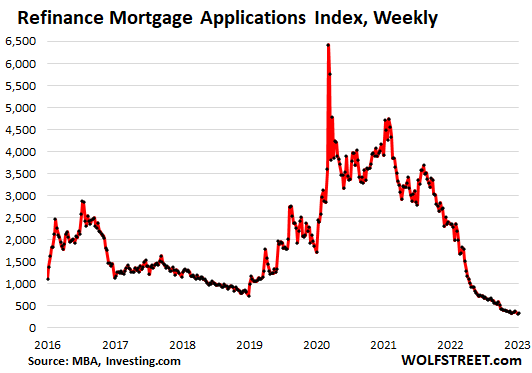 Mortgage lender woes.
Mortgage lenders, whose revenues have collapsed as mortgage applications volume has collapsed, have spent the last 12 months laying off people and shutting down divisions. Some smaller operations have shut down entirely…..
*****
Continue reading this article at Wolf Street.
TAKE ACTION
As we move through 2023 and into the next election cycle, The Prickly Pear will resume Take Action recommendations and information.
https://thepricklypear.org/wp-content/uploads/iStock-1440226251-scaled.jpg
1703
2560
Wolf Richter
https://thepricklypear.org/wp-content/uploads/logo_website_2022_v3_400x61.png
Wolf Richter
2023-01-14 00:29:38
2023-01-13 11:18:13
Dip in Mortgage Rates Not Slowing Housing Bust 2: Mortgage Lenders Sing the Blues