Gasoline & Diesel Prices Spike to New WTF Records, But Don't Blame Crude Oil
Estimated Reading Time:
< 1
minute
Predictions a few weeks ago of peak gasoline prices have been obviated by the inflationary mindset.
The average price of all grades of gasoline at the pump spiked to a record $4.33 per gallon on Monday, May 9, the third week in a row of increases, and was up 46% from a year ago, edging past the prior record of Monday, March 14 ($4.32), according to the US Energy Department's EIA late Monday, based on its surveys of gas stations conducted during the day.
Gasoline price increases slap consumers directly in the face every time they get gas, and the classic ways of hiding price increases – such as making gallons smaller (shrinkflation) – would be illegal.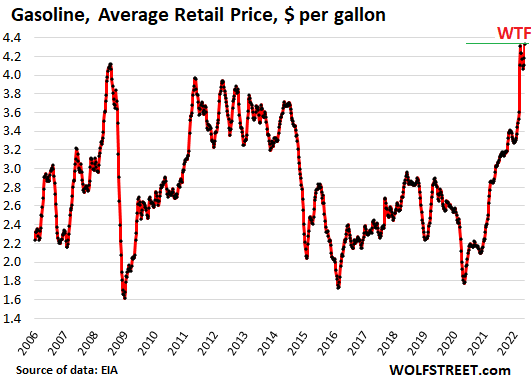 Adjusted for CPI inflation, it's still not a record. In July 2008, gasoline at $4.11 would amount to $5.37 a gallon in today's dollars. Long way to go, baby.
Back then, demand destruction rippling out of the Financial Crisis and the Great Recession toppled the price spike. We're not there yet either – but the Fed has started to work on it.
Gasoline futures have been breathtakingly volatile since February, with huge spikes and drops, that led to a new record on Friday, but on Monday, they fell from that record (chart via Investing.com):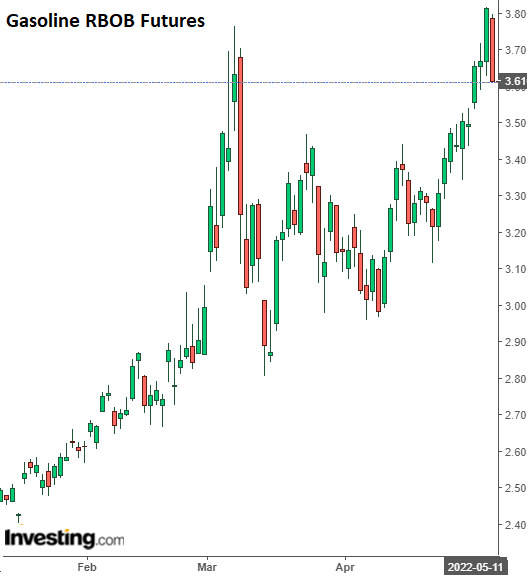 The average retail price of No. 2 highway diesel spiked to a record $5.62 a gallon at the pump on Monday, the EIA reported late Monday. Year-over-year, the price of diesel has spiked by 76%!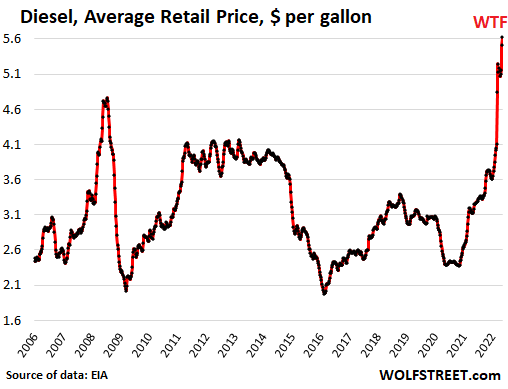 *****
Continue reading this article at Wolf Street.
TAKE ACTION
America is now aware of the Department of Homeland Security's new 'Disinformation Governance Board'. 
DHS Secretary Alejandro Mayorkas called disinformation a "threat" that needs to be addressed with federal law enforcement power.
(Is it coincidental that Elon Musk will shortly take Twitter private and re-establish a free speech platform in America?)
This new DHS office is the Biden Speech Police and represents an existential threat to our First Amendment and our Republic. Please click the adjacent red TAKE ACTION link for the resources to inform your Senators and Representatives about this unconstitutional and tyrannical assault on American Free Speech and our fierce rejection of it.
https://thepricklypear.org/wp-content/uploads/truck-in-az.jpg
339
508
Wolf Richter
https://thepricklypear.org/wp-content/uploads/logo_v12_404x90.png
Wolf Richter
2022-05-11 02:10:44
2022-05-10 21:03:36
Gasoline & Diesel Prices Spike to New WTF Records, But Don't Blame Crude Oil