Gasoline & Diesel Prices Spike to New WTF Records, But Don't Blame Crude Oil
Estimated Reading Time:
< 1
minute
Predictions a few weeks ago of peak gasoline prices have been obviated by the inflationary mindset.
The average price of all grades of gasoline at the pump spiked to a record $4.33 per gallon on Monday, May 9, the third week in a row of increases, and was up 46% from a year ago, edging past the prior record of Monday, March 14 ($4.32), according to the US Energy Department's EIA late Monday, based on its surveys of gas stations conducted during the day.
Gasoline price increases slap consumers directly in the face every time they get gas, and the classic ways of hiding price increases – such as making gallons smaller (shrinkflation) – would be illegal.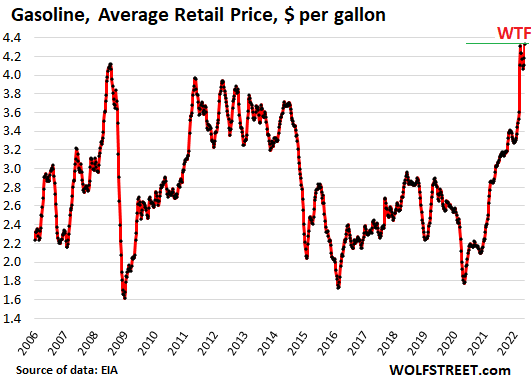 Adjusted for CPI inflation, it's still not a record. In July 2008, gasoline at $4.11 would amount to $5.37 a gallon in today's dollars. Long way to go, baby.
Back then, demand destruction rippling out of the Financial Crisis and the Great Recession toppled the price spike. We're not there yet either – but the Fed has started to work on it.
Gasoline futures have been breathtakingly volatile since February, with huge spikes and drops, that led to a new record on Friday, but on Monday, they fell from that record (chart via Investing.com):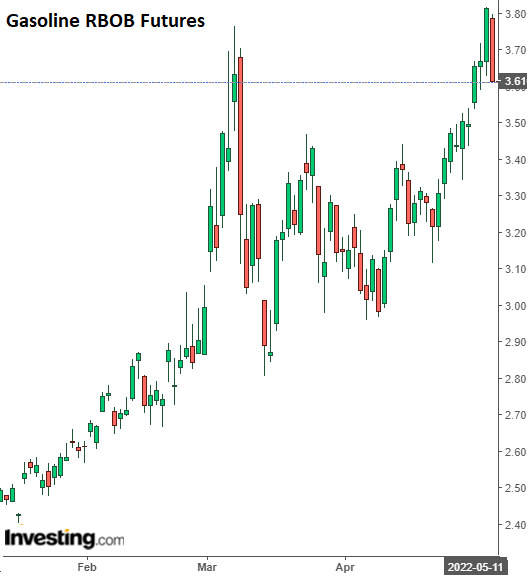 The average retail price of No. 2 highway diesel spiked to a record $5.62 a gallon at the pump on Monday, the EIA reported late Monday. Year-over-year, the price of diesel has spiked by 76%!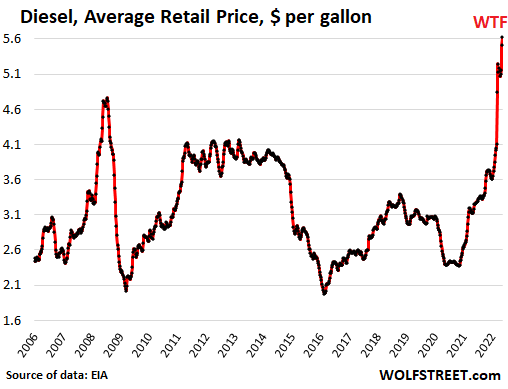 *****
Continue reading this article at Wolf Street.
TAKE ACTION
Are you fed up? Are you worried that America in rapidly sliding into a neo-Marxist state by the radical left in control of Washington with historically narrow majorities in the U.S. House and Senate and an Executive controlled by unnamed far leftists in place of a clinically incompetent President Biden? They are desperate to keep power and complete their radical progressive agenda that will change America and our liberty forever.
Americans just witnessed the passage of the Inflation Reduction Act of 2022 without one Republican vote in the U.S. Senate and House (just as Obamacare was passed in 2010). The IRS  will be hiring 87,000 new agents, many armed, to terrorize American taxpayers.
Americans witnessed the FBI raid at the Trump Mar-A-Lago home and property of President Trump, truly a first in all of American history. We know what that is about. 
It is undeniable that the Democrat Party and the administrative state (the executive branches of the DOJ, FBI, IRS, et al) are clear and present dangers to our Republic and our liberty as they increasingly veer further away from the rule of law and the Constitution. What is the solution? At this critical juncture, there is only one action we can all take.
The only viable and timely solution at this critical point is to vote – yes, vote correctly and smartly to retake the U.S. House and Senate on November 8th and to prepare the way to retake the White House in two years. Vote and help everyone you know to vote. Please click the TAKE ACTION link below – we must vote correctly and in great numbers to be sure our votes are counted to diminish the potential for the left to rig and steal the midterms and the 2024 elections as they are clearly intending to do after their success in 2020.
https://thepricklypear.org/wp-content/uploads/truck-in-az.jpg
339
508
Wolf Richter
https://thepricklypear.org/wp-content/uploads/logo_v12_404x90.png
Wolf Richter
2022-05-11 02:10:44
2022-05-10 21:03:36
Gasoline & Diesel Prices Spike to New WTF Records, But Don't Blame Crude Oil