Estimated Reading Time:
2
minutes
"Normalization" or "deceleration," as this phenomenon is called, is setting in
Prices of existing single-family houses, condos, and co-ops dipped in July, reverting to seasonality for the first time since 2019, amid surging price reductions. Single-family house sales dropped 4.1% in July, from a year ago, the first decline since the lockdowns. Condo sales rose. Inventories rose for the fifth month in a row. And new listings are catching up with pre-pandemic trends, as sellers emerge from the woodwork. All this according to data from the National Association of Realtors today.
Home prices dipped in July from June, breaking the crazy spiking prices for the first time this year. Back in May and June, the median price for existing homes had spiked by a historic record of over 23% from a year earlier. But in July, the median price dipped to $359,000, reducing the year-over-year gains to a still gigantic 18.8%.
During the pandemic, all seasonality was thrown out the window. But in July, prices reverted to seasonality, dipping from the seasonal peak in June. Reverting to seasonality is the first step back from the craziness, and toward "normalization" or "deceleration" as this is now called, (data via YCharts):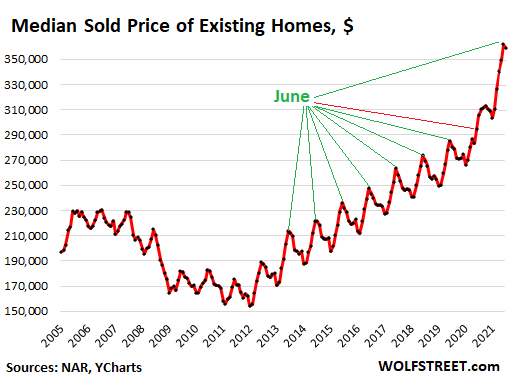 Price reductions surged by 37% in July from June, the fifth month in a row of increases, and the largest month-to-month increase in the data provided by realtor.com's residential listings database. The number of price reductions in July was still relatively low, but the recent surge shows the beginnings of a sense that "normalization" or "deceleration" is setting in: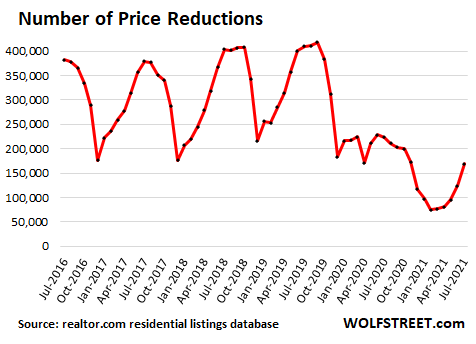 Sales of single-family houses on a monthly basis, and not including condos, dropped 4.1% year-over-year in July, to 516,000 houses, the first year-over-year decline since the plunges during the lockdown. July last year was when the spike in home sales began: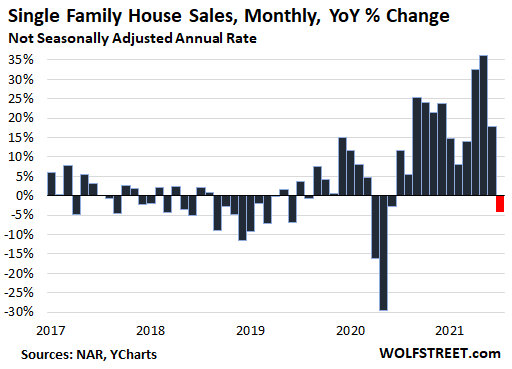 Sales of house and condos combined, and expressed as "seasonally adjusted annual rate of sales" ticked up in July from June, to an annual rate of 5.99 million homes. Year-over-year, that was up 1.5%, the smallest year-over-year uptick since the lockdowns, with house sales down 0.8%, but condo sales, which had collapsed last year, up by 22% (historic data via YCharts):
*****
Continue reading this article published August 23, 2021 at  Wolf Street.
https://thepricklypear.org/wp-content/uploads/istockphoto-177735411-170667a.jpg
339
509
Wolf Richter
https://thepricklypear.org/wp-content/uploads/logo_v12_404x90.png
Wolf Richter
2021-08-29 01:00:41
2021-08-25 04:34:05
Home Prices Dip for First Time off Crazy Spike, Price Reductions Surge, Sellers Emerge, House Sales Drop Year-over-Year, Inventories & Supply Keep Rising