Inflation Jumped by 3.8% in Q1, "Real GDP" Rose 1.6%, Dragged Down by Record Trade Deficit and Drop in Inventories
Estimated Reading Time:
< 1
minute
Even the Fed's repressed inflation measure without food and energy rose 2.3% annual rate in Q1.
The US economy, as measured by inflation-adjusted GDP, grew by 1.6% in the first quarter from Q4 2020, according to the advance estimate of the Bureau of Economic Analysis this morning.
If you read in the headline that it grew by "6.4%," that sounded impressive, but it was "annualized"; it essentially multiplied the quarterly growth rate (1.6%) by 4. There are not many countries outside the US, if any, that report "annualized" GDP growth rates, because they're really just misleading for normal people.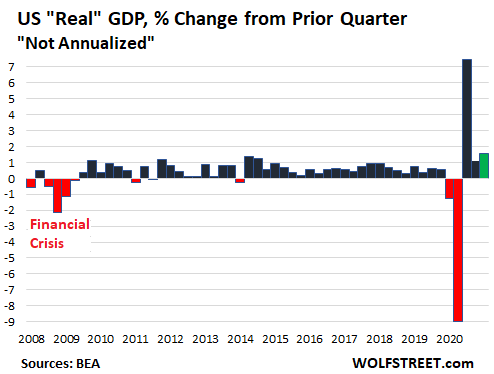 GDP inflation jumped by 3.8%, PCE inflation by 3.5%.
The BEA's broadest inflation measure, the price index that roughly parallels the inflation adjustment to GDP (the "price index for gross domestic purchases"), jumped by 3.8% annual rate in Q1, more than double the rate of 1.7% in Q4.
The BEA's narrower PCE ("personal consumption expenditure") price index jumped by 3.5% annual rate in Q1.
And the BEA's price index that has become the Fed's measure for inflation, "core PCE" (PCE without food and energy) rose by 2.3% annual rate, tracking above the Fed's former target of 2.0%. "Former target" because now the Fed is looking for inflation above 2%.
GDP in dollars.
In dollar terms, real GDP in Q1 amounted to a "seasonally adjusted annual rate" of $19.09 trillion. This was still down about 0.9% from the peak in Q4 2019 – catching up: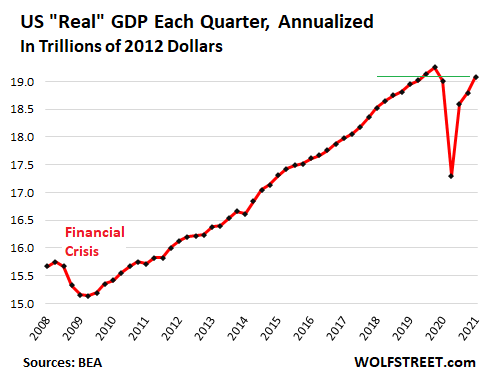 Consumer spending rose 2.6% from the prior quarter to an annual rate of $13.3 trillion in "chained 2012 dollars" (to adjust for inflation), a tad below the peak in Q4 2019.
*****
Continue reading this article at  Wolfe Street.
TAKE ACTION
As we move through 2023 and into the next election cycle, The Prickly Pear will resume Take Action recommendations and information.
https://thepricklypear.org/wp-content/uploads/shoppingcart.jpg
509
339
Wolf Richter
https://thepricklypear.org/wp-content/uploads/logo_website_2022_v3_400x61.png
Wolf Richter
2021-05-04 01:00:49
2021-05-02 10:53:21
Inflation Jumped by 3.8% in Q1, "Real GDP" Rose 1.6%, Dragged Down by Record Trade Deficit and Drop in Inventories