Most Reckless Fed Ever: "Real" Federal Funds Rate Now the Most Negative Ever
Estimated Reading Time:
2
minutes
After a year of brushing off inflation as temporary, while inflation spread deeper and further into the economy, and got worse month after month, the Fed is finally talking about tightening. But so far, it's just talking about it. It's still repressing short-term interest rates to near 0% – with the effective federal funds rate, which the Fed targets with its interest rate policy, at 0.08%. And the Fed is still printing money hand-over-fist, though at a slightly slower rate than two months ago.
Meanwhile, the broadest measure of inflation, the Consumer Price Index (CPI-U) jumped by 7.04%, the highest and worst since June 1982, according to data released by the Bureau of Labor Statistics today. But we cannot compare today to 1982:
In June 1982, inflation was coming down; now inflation is spiking.
In June 1982, the effective federal funds rate (EFFR) was 14.2%. Today it's 0.08%.
In June 1982, the Fed did not engage in QE; today it's still massively buying assets.
So now we have the bizarre situation where the EFFR is 0.08% and CPI-U inflation is 7.04%, and the inflation-adjusted EFFR, or "real" EFFR, is a negative 6.96%, the most negative real EFFR in the data going back to 1954: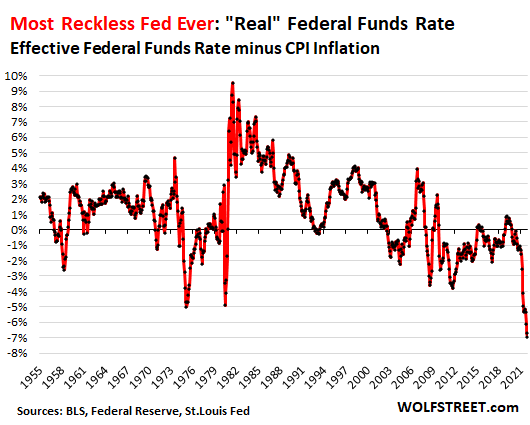 The "real" interest rate on savings accounts and CDs is similarly negative in the -7.0% range. The real yield of short-term Treasury bills is similarly negative in the -7.0% range.  Even the 10-year Treasury yield, now at 1.7%, is -5.3% in real terms.
Even most junk bonds are traded with yields below the rate of inflation. The average BB-rated "real" junk bond yield is -3.3%. Taking more risk, the average B-rated "real" yield is -2.0%…..
*****
Continue reading this article at Wolf Street.
TAKE ACTION
America is now aware of the Department of Homeland Security's new 'Disinformation Governance Board'. 
DHS Secretary Alejandro Mayorkas called disinformation a "threat" that needs to be addressed with federal law enforcement power.
(Is it coincidental that Elon Musk will shortly take Twitter private and re-establish a free speech platform in America?)
This new DHS office is the Biden Speech Police and represents an existential threat to our First Amendment and our Republic. Please click the adjacent red TAKE ACTION link for the resources to inform your Senators and Representatives about this unconstitutional and tyrannical assault on American Free Speech and our fierce rejection of it.
https://thepricklypear.org/wp-content/uploads/tapering.jpg
352
489
Wolf Richter
https://thepricklypear.org/wp-content/uploads/logo_v12_404x90.png
Wolf Richter
2022-01-14 01:50:24
2022-01-13 22:50:13
Most Reckless Fed Ever: "Real" Federal Funds Rate Now the Most Negative Ever