Our Drunken Sailors – Consumers, Governments, Businesses – Have Blast, GDP Spikes in Q3, Powell Seen Tearing out his Hair
Estimated Reading Time:
2
minutes
The much-awaited and hoped-for slowdown in the second half turned into a drunken party in Q3.
This was Fed Chair Jerome Powell's reaction this morning when he saw the Q3 GDP report, as captured by cartoonist Marco Ricolli for WOLF STREET: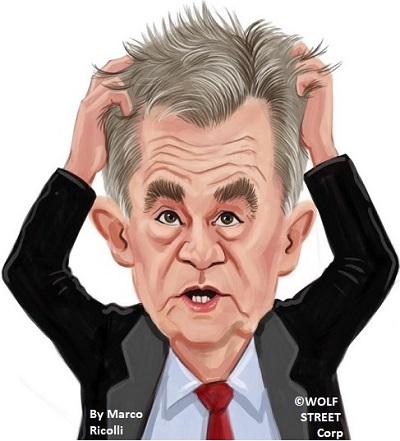 In Q3, all our drunken sailors were at it together in one huge party – consumers, businesses, and governments. Maybe they'll slow down in Q4, maybe they'll slow down in 2024, or whenever. But in Q3, they drank directly from the punch bowl.
GDP, adjusted for inflation ("real GDP"), jumped by an annualized rate of 4.9% in Q3 from Q2, following the 2.1% increase in Q2 and the 2.2% increase in Q1, according to the Bureau of Economic Analysis today.
All major categories, except the trade deficit (which worsened), increased sharply, adjusted for inflation:
Consumer spending (69% of GDP): +4.0%.
Gross private investment (18% of GDP): +8.4%.
Government spending (17% of GDP): +4.6%.
Private inventories increased and added to GDP.
But the trade deficit got a little more horrible and an bigger drag on GDP.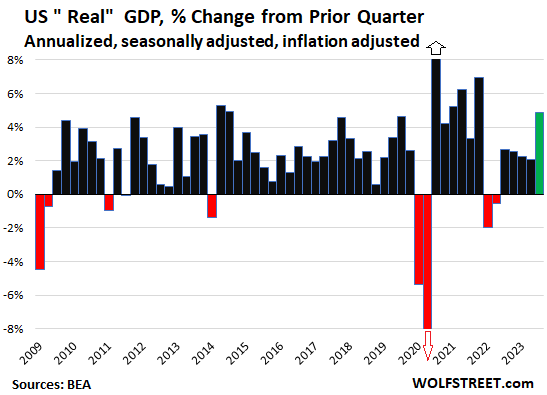 GDP in dollar terms: In current dollars, not adjusted for inflation, "nominal GDP" jumped by 8.5%, to $27.6 trillion annualized. This represents the actual size of the US economy, measured in today's dollars.
GDP adjusted for inflation via 2017 dollars rose 4.0% to an annual rate of $22.5 trillion, depicted in the chart below. You can see the sharp acceleration of growth in Q3. All figures below are adjusted for inflation via 2017 dollars.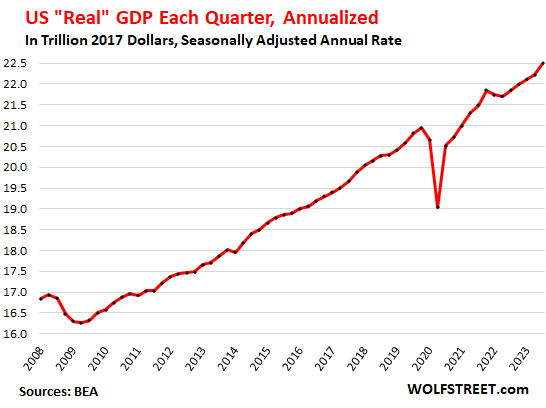 Drunken Sailors #1: Consumer spending on goods and services jumped by 4.0% annualized and adjusted for inflation, after the revised 0.8% increase in Q2 and the 3.8% increase in Q1. Consumer spending accounted for 69% of Q3 GDP.
Spending on goods jumped by 4.8%, including a 7.6% spike in durable goods (think autos).
Spending on services jumped by 3.6%.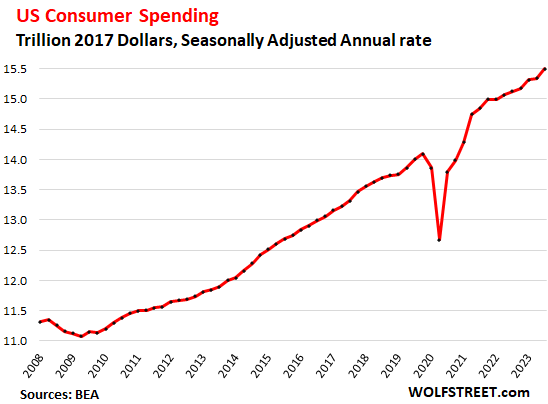 Drunken Sailors #2: Gross private domestic investment spiked by 8.4%, after the 5.2% jump in Q2. It accounted for 18% of GDP.
The fixed investment component within gross private domestic investment ticked up 0.8%, of which:
Residential fixed investment: +3.9%, after six quarters of declines.
Nonresidential fixed investments: -0.1%, after seven quarters of increases:

Structures: +1.6%.
Equipment: -3.8%.
Intellectual property products (software, movies, etc.): +2.6%.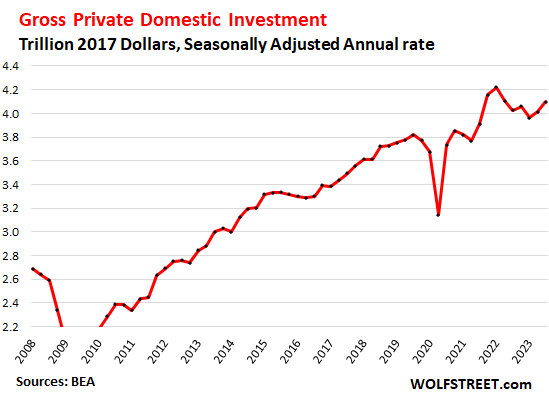 *****
Continue reading this article at Wolf Street.
Image Credit: Pixabay
TAKE ACTION
As we move through 2023 and into the next election cycle, The Prickly Pear will resume Take Action recommendations and information.
https://thepricklypear.org/wp-content/uploads/money-3.jpg
854
1280
Wolf Richter
https://thepricklypear.org/wp-content/uploads/logo_2023.png
Wolf Richter
2023-11-06 00:30:05
2023-11-04 07:10:49
Our Drunken Sailors – Consumers, Governments, Businesses – Have Blast, GDP Spikes in Q3, Powell Seen Tearing out his Hair