Poll: In Face-off with Biden, Haley, DeSantis Outperform Trump
Estimated Reading Time:
3
minutes
Former Ambassador and Gov. Nikki Haley and Florida Gov. Ron DeSantis both perform better against President Joe Biden in a hypothetical general election matchup than former President Donald Trump, according to The Center Square Voters' Voice poll.
Conducted in conjunction with Noble Predictive Insights, the poll found that in a hypothetical general election head-to-head faceoff, Biden would have 48% support among likely voters compared to Trump's 44%. However, DeSantis does better in the same faceoff, with Biden getting 44% support compared to DeSantis' 47% support.
Haley also beats Biden in the same matchup with 44% support compared to Biden's 41% support.
Both Haley's and DeSantis' leads are within the poll's 1.96% margin of error.
"This is a fascinating finding in here and there are a couple of things that are worth highlighting here," David Byler, chief of research at Noble Predictive Insights, told The Center Square. "Haley and DeSantis have pitched themselves as stronger general election candidates than Trump. That is explicit and implicit in their campaign messaging.
"They say that Trump might lose again or that Trump has baggage or that Trump won't debate because I'm better on the issues," Byler added. "You name it. What they are talking about is electability. So this poll in some ways validates Haley and DeSantis' argument."
The poll of 2,605 voters includes 1,035 Republicans, 1,074 Democrats, and 496 true Independents, and is among the most comprehensive in the country.
The poll comes ahead of the third Republican primary debate in Miami on Wednesday. Trump is not expected to participate, and despite his large lead, Trump's legal issues could sink his campaign and make a second place more important than ever.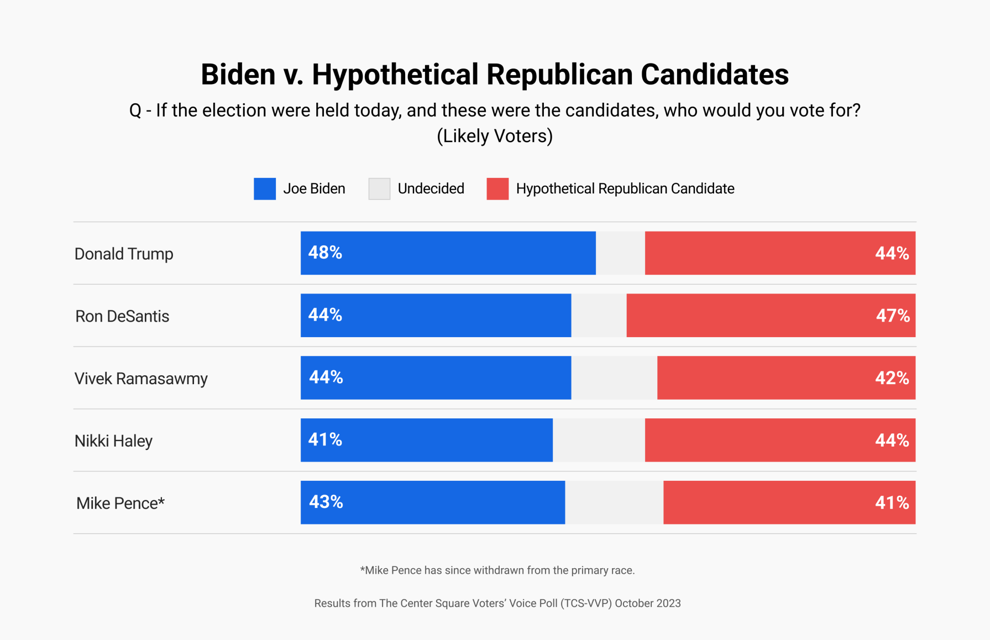 Notably, the poll found that Haley is better able to pull Democrats and Independent voters to her side than DeSantis or Trump.
"What you'll notice is among true Independents, Biden and Trump are tied, but among true Independents, you have a very slight lead for Ron DeSantis, just two points, but every bit counts," Byler told The Center Square. "You have a sizeable lead for Nikki Haley among true Independents in her matchup with Joe Biden, so that is something that is pretty interesting finding.
"Swing voters, when you give them a Biden versus Trump matchup, they're split," Byler added. "When you give them a Biden versus Haley matchup, they are more Haley favoring…"
The poll found that among likely voters, Biden has a 43% approval rate with 56% disapproving and the rest unsure.
Byler also pointed out that Haley is also able to pull about 5% more Democrats to her side than Biden would be able to pull in Republicans.
"Some of what is happening with this shift toward Haley is from Independents, some is from Democrats who are willing to give her a look," Byler said.
According to a question asked of all likely voters irrespective of party, inflation and price increases are a crucial issue, with 48% naming it as one of the top three issues facing the country. Illegal immigration came in second with 35% of those surveyed saying the same. Crime and violence came in third with 27% naming it as one of their top three issues heading into next year's presidential election.
Despite their potential success in a faceoff against Biden, both DeSantis and Haley face a chasm in support between themselves and Trump in the Republican primary.
The same poll found that Trump leads the Republican primary field with 59% support among likely voters. DeSantis comes in second at 13% support while Haley has 9% support.
Businessman and author Vivek Ramaswamy has 7% support while former Vice President Mike Pence, who has dropped out since the survey was conducted, is behind him at 5% support.
Sen. Tim Scott, R-S.C., and former New Jersey Gov. Chris Christie are tied at 2% support, according to the poll.
In addition, 1% of those Republican likely voters said they would vote for "none of these candidates" and another 1% said they would vote for "someone else not listed."
The Republican primary's Iowa Caucus is scheduled for January with the New Hampshire primary soon after.
Even if all other candidates dropped out of the race, DeSantis and Haley don't appear ready to close the gap between themselves and Trump. The poll found that in a hypothetical matchup with Republican likely voters, Trump wins with 68% support compared to DeSantis' 32% support. Trump does even better against Haley with 73% support compared to Haley's 27% support.
"We tested specific matchups of [Trump] against Haley and him against DeSantis," Byler said. "And what you saw when you had just a one-on-one matchup…Trump still cleaned up."
Even still, Trump faces nearly 100 criminal charges, meaning his White House bid could be jeopardized at any time and suddenly thrust another Republican candidate to the top of the ticket. For now, it remains unclear who that candidate could be.
The poll was conducted by Noble Predictive Insights from Oct. 20-26 of this year with a margin of error of 1.92%.
*****
This article was published by Center Square and is reproduced with permission.
Image Credit: YouTube screen shot Fox Business at the Reagan Library
TAKE ACTION
As we move through 2023 and into the next election cycle, The Prickly Pear will resume Take Action recommendations and information.
https://thepricklypear.org/wp-content/uploads/desantishaley.jpg
609
1179
Casey Harper
https://thepricklypear.org/wp-content/uploads/logo_2023.png
Casey Harper
2023-11-09 00:26:40
2023-11-07 08:01:34
Poll: In Face-off with Biden, Haley, DeSantis Outperform Trump