Estimated Reading Time:
2
minutes
Over-stimulated demand, tangled supply chains: shortages for some, plenty of supply for others.
The historic stimulus from $5 trillion in government deficit-spending and from $4 trillion in Fed money-printing within a 16 month period resulted in a historic spike in consumer spending on goods. When the demand shock hit retailers and other companies, they were suddenly confronted with a multi-layered supply shock – after decades of corporate efforts to tighten "lean inventory" strategies ever further, all the way up the supply chain. And there was no buffer for the disruptions.
Inventories at auto dealers, which in normal times account for about 36% of total retail inventories, have evaporated since the spring of 2020, following production halts at automakers, first due to covid, then due to the semiconductor shortage.
The inventory-sales ratio at new and used vehicle dealers and parts dealers dropped to a historic low of 1.15 in April, the lowest in the data going back to 1992, and has roughly stayed there through June, according to data by the Census Bureau on Tuesday. A ratio of 1.0 means the retailer has enough goods on hand for 30 days at the current rate of sales. A ratio of 2.0 means the retailer has 60 days' supply. For auto dealers, 60 days' supply is considered healthy. In June, auto dealers had roughly 34 days of supply for the third month in a row: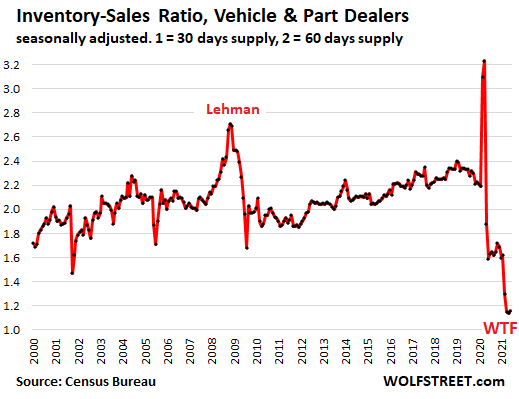 But so far this year through June, despite more costly vehicles in inventory, inventories in dollar terms collapsed to $152.9 billion, where they'd first been in 2004: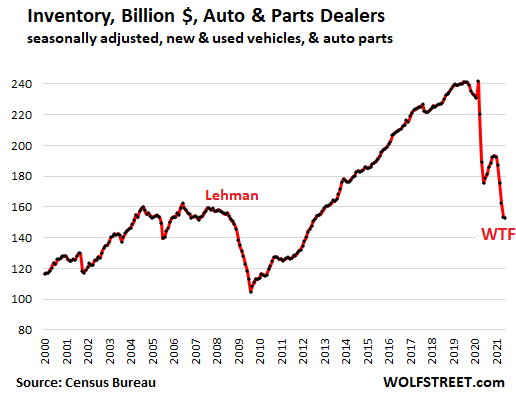 What kept the inventory-sales ratio (first chart) from plunging even further was a sharp drop in vehicle unit sales in June as dealers had run short on vehicles to sell, and customers, frustrated by lack of choice and by sky-high prices, started walking away, a process that accelerated in July.
Inventories at food and beverage stores took a heavy hit during the empty-shelves phase in March and April 2020 but have now recovered, even as sales at these stores remain historically high, given the shift of consumption from commercial buildings to the home, powered by working-from-home or not working at all. In dollar-terms, inventories hit a new high in March and roughly stayed there through June, at $54.1 billion.
*****
https://thepricklypear.org/wp-content/uploads/istockphoto-1224039863-170667a.jpg
328
525
Wolf Richter
https://thepricklypear.org/wp-content/uploads/logo_v12_404x90.png
Wolf Richter
2021-08-24 01:00:18
2021-08-22 11:32:35
Shortages in Charts: New & Used Vehicle Inventories Collapsed, Supply at Clothing Stores Gets Tight, Food Stores Near Normal