Social Security COLA for 2022 Biggest since 1982, But Still Won't Cover Actual Cost of Living Increases for Many Retirees
Estimated Reading Time:
2
minutes
For retirees, 2021 was a nasty year: Red hot inflation and a stingy COLA. In 2022, they might fall behind more slowly.
Among the red-hot inflation data released today was the Consumer Price Index for All Urban Wage Earners and Clerical Workers (CPI-W), which is used to calculate the Cost of Living Adjustment (COLA) for Social Security benefits. The COLA to be applied to Social Security benefits starting in January 2022 is the average year-over-year percentage increase of CPI-W in the third quarter. And today, the September data was released.
For September, the CPI-W soared by 5.9% year-over-year, after having soared by 5.8% in August and by 6.0% in July. The COLA for 2022 will be the average of those three: 5.9%, the highest since 1982: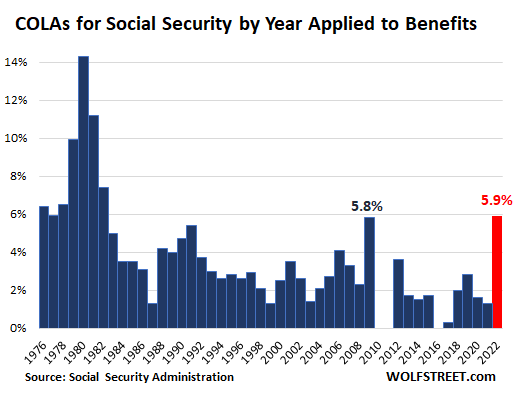 A COLA of 5.9% might sound good, and there are hopes that this COLA will allow Social Security benefits to keep up with the actual costs of living, and that may be true for some people, depending on how and where they're situated, but for many, it won't be enough, and their actual costs of living will continue to outrun the COLA.
The big issue now is rents, and many Social Security recipients who rent, depending on where they live, already faced double-digit rent increases this year. Then there's gasoline, which jumped on average 42% year-over-year in September, and utility natural gas which jumped on average 21%. Traveling, now that you have time? The CPI for hotels and motels has jumped by 20% and rental cars by 43%.
And forget buying a vehicle, new or used, because those prices have spiked out of reach for any COLA.
The reason the COLA is still relatively low compared to reality on the ground is that housing costs, which account for nearly one-third of the overall CPI, have been artificially repressed by the calculation method.
The CPI for rent rose only 2.4% year-over-year, while actual rents have soared in many cities by 10% or more, and in some by 20% or more….
*****
https://thepricklypear.org/wp-content/uploads/US-CPI-2021-10-13-CPI-U-YOY.png
403
512
Wolf Richter
https://thepricklypear.org/wp-content/uploads/logo_v12_404x90.png
Wolf Richter
2021-10-17 01:05:54
2021-10-15 11:47:45
Social Security COLA for 2022 Biggest since 1982, But Still Won't Cover Actual Cost of Living Increases for Many Retirees