Starting to Be Housing Bust 2 for Homebuilders & New Single-Family Houses
Estimated Reading Time:
2
minutes
To get rid of ballooning inventories amid spiking cancellations & plunging sales, builders try to sell to rental operations, but they pulled back too.
If a homebuilder cannot sell their ballooning inventory of unsold new houses to households, at current prices and mortgage rates, amid plunging sales and soaring cancellation rates of signed contracts – topping out at 45% in the Southwest and at 38% in Texas – despite aggressive incentives such as mortgage-rate buydowns to stimulate sales and prevent cancellations, well, whom are homebuilders supposed to sell those houses to?
Rental operations? That may be hard too because many have pulled back for all the same reasons as households: Prices are too high, and financing is too costly. Sales to single-family rental investors have plunged by 32% in Q3 from a year ago. So here we go with a good-luck nod…
Lennar, the second-biggest homebuilder by market capitalization, has been approaching big rental landlords with an inventory list of about 5,000 houses, that it wants to offload, according to sources cited by Bloomberg. Many of the houses are in the Southwest and Southeast. They include entire subdivisions.
Lennar has sold about 1,000 single-family houses to rental operators in its third quarter – and some of those houses it sold to its own rental operation. Last year, Lennar obtained $1.25 billion in equity commitments from Allianz Real Estate and Centerbridge Partners for its rental division to buy rental houses.
"Our program has taken a very disciplined approach to stepping back and waiting for the market to kind of reconcile itself," Lennar Executive Chairman Stuart Miller told analysts in September. "Contrary to what you might have thought, we're probably selling less to our own program and more to other SFR programs outside of Lennar."
It's across the industry: Homebuilders have pitched at least 40,000 new houses to rental operators in recent months, Jeff Cline, an executive director at commercial real-estate advisory SVN, told Bloomberg. He said that many of these houses had originally been sold to individual buyers who then canceled the purchase contract.
Cancellations of signed contracts with individual buyers have spiked. According to a survey by John Burns Real Estate Consulting of homebuilders that account for roughly 20% of all new home sales, the cancellation rate spiked to 26% in October, up from a rate of 8% a year ago, and up from 11% in October 2019.
The cancellation rates topped out in the Southwest at 45%, up from a cancellation rate of 9% a year ago. In Texas, the cancellation rate spiked to 39%, up from 12% a year ago (chart via Rick Palacios Jr., Director of Research at John Burns, click to enlarge):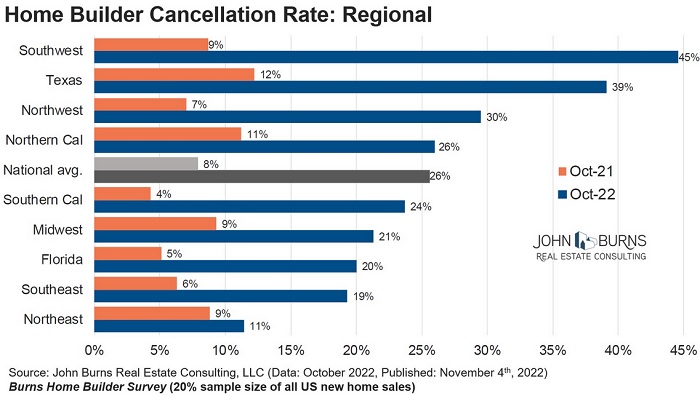 With the median sold price of a new house currently at around $450,000, those 40,000 houses that builders are trying to offload to single-family rental operators would run around $18 billion…..
*****
Continue reading this article at Wolf Street.
TAKE ACTION
As we move through 2023 and into the next election cycle, The Prickly Pear will resume Take Action recommendations and information.
https://thepricklypear.org/wp-content/uploads/iStock-181083398-scaled.jpg
1707
2560
Wolf Richter
https://thepricklypear.org/wp-content/uploads/logo_website_2022_v3_400x61.png
Wolf Richter
2022-12-17 00:28:44
2022-12-16 09:34:55
Starting to Be Housing Bust 2 for Homebuilders & New Single-Family Houses