Suddenly Here Comes the Inventory: Homes Listed for Sale Jump amid Price Reductions and Sagging Sales
Estimated Reading Time:
2
minutes
The shadow inventory emerges with perfect timing, just as holy-moly mortgage rates and sky-high prices keep buyers away.
"Inventory" in housing means homes listed for sale. Then there's the shadow inventory – vacant homes that owners want to sell eventually because they have already moved into a new place but want to ride up the surge in home prices all the way, and then at the tippy-top, they'll sell it to maximize their profits.
We have seen this during the past 18 months when home prices spiked: people bought a home and moved in, and they moved out of their other home but didn't sell it, expecting a 10% or 20% or 30% gain in price on a leveraged bet with a much bigger gain on equity. The math makes sense, though it doesn't always work out, and now it's starting to be time to put those vacant homes on the market, and here they come, just as home sales are dropping because layers and layers of buyers have been removed from the market by the rising mortgage rates and sky-high prices.
Active listings jumped. In May, the inventory of homes actively listed for sale jumped by 26% from April and is suddenly up by 8% from a year ago, the first year-over-year increase since June 2019, according to the National Association of Realtors today. There were about 38,000 more homes listed for sale in May than a year ago (data via realtor.com):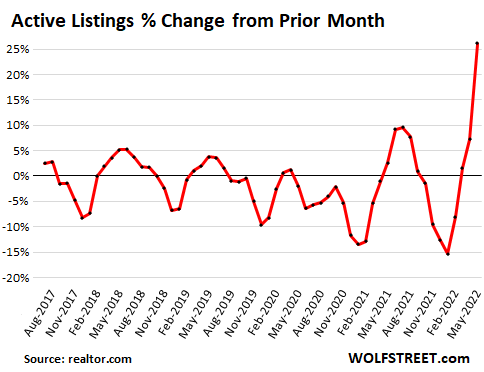 The strategy of not putting the old home on the market after moving out has had the effect of creating record low inventories for sale, and inventories remain low, but that is now changing, and very suddenly so.
Active listings jumped for two reasons:
One, falling sales, as potential buyers left the market due to sky-high home prices and holy-moly mortgage rates. The NAR's metric of "pending listings" for May, which tracks listings that are in various stages of the sales process, but before the deal closes, dropped by 12.6% year-over-year in May, after the 8.7% drop in April, the ninth month in a row of year-over-year declines: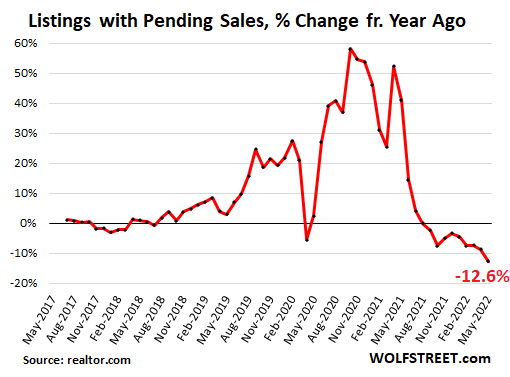 Reported later in the month, closed sales have also dropped for the ninth month in a row, and the closed sales data for May should be another doozie.
*****
Continue reading this article at Wolf Street.
TAKE ACTION
Are you fed up? Are you worried that America in rapidly sliding into a neo-Marxist state by the radical left in control of Washington with historically narrow majorities in the U.S. House and Senate and an Executive controlled by unnamed far leftists in place of a clinically incompetent President Biden? They are desperate to keep power and complete their radical progressive agenda that will change America and our liberty forever.
Americans just witnessed the passage of the Inflation Reduction Act of 2022 without one Republican vote in the U.S. Senate and House (just as Obamacare was passed in 2010). The IRS  will be hiring 87,000 new agents, many armed, to terrorize American taxpayers.
Americans witnessed the FBI raid at the Trump Mar-A-Lago home and property of President Trump, truly a first in all of American history. We know what that is about. 
It is undeniable that the Democrat Party and the administrative state (the executive branches of the DOJ, FBI, IRS, et al) are clear and present dangers to our Republic and our liberty as they increasingly veer further away from the rule of law and the Constitution. What is the solution? At this critical juncture, there is only one action we can all take.
The only viable and timely solution at this critical point is to vote – yes, vote correctly and smartly to retake the U.S. House and Senate on November 8th and to prepare the way to retake the White House in two years. Vote and help everyone you know to vote. Please click the TAKE ACTION link below – we must vote correctly and in great numbers to be sure our votes are counted to diminish the potential for the left to rig and steal the midterms and the 2024 elections as they are clearly intending to do after their success in 2020.
https://thepricklypear.org/wp-content/uploads/houseforsale.jpg
339
509
Wolf Richter
https://thepricklypear.org/wp-content/uploads/logo_v12_404x90.png
Wolf Richter
2022-06-06 02:00:49
2022-06-04 08:21:03
Suddenly Here Comes the Inventory: Homes Listed for Sale Jump amid Price Reductions and Sagging Sales