Estimated Reading Time:
2
minutes
Editors' Note:  As the news rolls in of one EV disaster after another, the easy money and greed of Wall Street have to be examined. However, it also should be noted this is part of a government, top-down, problem of central planning. Politicians have a dream and if the dream does not comport with reality, they will still use the government to cram it down our throats. Many eager investors followed the aims of the "Green New Deal", and are now paying a heavy price. If EVs were so good, why would they need overt government subsidy and support? And why are people not choosing them as a form of transportation? There is a special kind of greed at work here. Greed to get government subsidies and to virtue signal with other people's money.
The SPAC [Special Purpose Acquisition Company] boom will surely go down in history as one of the biggest stock-market heists ever, made possible by Consensual Hallucination. 
EV maker Proterra, which makes mostly a few electric buses a year – when giant competitors make many thousands – filed for Chapter 11 bankruptcy today [8/9/23], 25 months after having gone public via a merger with a SPAC. It once had a market cap of nearly $4 billion.
It was by no means a record in terms of how long it took for an EV SPAC to go bankrupt; that record is held by Electric Last Mile Solutions, which took only 12 months to get it over with. EV maker Lordstown made the trip from SPAC merger to bankruptcy in a little over two-and-a-half years. The shares of other EV SPACS have totally collapsed, and most of them are headed for bankruptcy.
Proterra's shares, or rather the SPAC's shares before the merger, spiked after the merger was announced in January 2021 from around $10 to $31.06 and then began to collapse. Five days ago it was still at $2. Today, it plunged to 17 cents, down by 99.4% from the peak.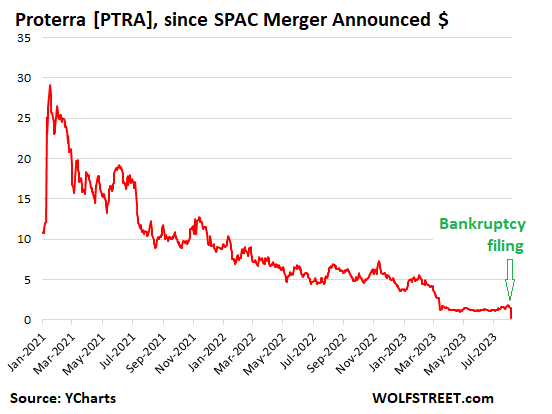 We'll get to a bunch more charts like this at the moment, with lots of scandals around them. The SPAC boom in 2020 and 2021 will surely go down in history as one of the biggest stock market heists ever. It has left behind a trail of investigations and settlements and scandals. Short sellers had a big party.
But it left no victims behind, just a bunch of eager players that tried to weasel out some money from other eager players, and some succeeded, and others got cleaned out. It was the era of consensual hallucination when the Fed's free money reigned. These creatures have long been populating my pantheon of Imploded Stocks….
*****
Continue reading this article at  Wolf Street.
https://thepricklypear.org/wp-content/uploads/amsterdam-916561_1280.jpg
851
1280
Wolf Richter
https://thepricklypear.org/wp-content/uploads/logo_website_2022_v3_400x61.png
Wolf Richter
2023-09-14 00:30:40
2023-09-12 07:08:46
The Collapse of the EV SPACs: Another One Goes Bankrupt, Others on the Verge