There's No Objective Evidence the Federal "Assault Weapons" Ban Saved Lives
Estimated Reading Time:
8
minutes
For the children we can save," declared President Biden on June 2, "we should reinstate the assault weapons ban and high-capacity magazines that we passed in 1994." To support this claim, Biden alleged:
And in the 10 years it was law, mass shootings went down. But after Republicans let the law expire in 2004 and those weapons were allowed to be sold again, mass shootings tripled. Those are the facts.
In reality, Biden is confusing terms and distorting data to paint a picture that is opposed to the facts. Such facts include but are not limited to the following:
The number of people killed in mass shootings didn't decline even after the 1986 federal ban on automatic guns, which are more capable of mass murder than the guns Biden wants to ban.
The terms "assault weapons" and "high-capacity magazines" are misleading and refer to common weapons used by citizens for hunting and home defense.
Before, during, and after the 1994 law cited by Biden, the portion of the U.S. population killed in mass shootings barely budged, and the slight changes are better explained by other factors.
Automatic Firearms Have Been Banned Since 1986
Eight years before the "assault weapons" ban referenced by Biden, Congress passed and President Reagan signed a 1986 law that made it unlawful for civilians to "transfer or possess a machinegun." Under federal law, the term "machinegun" means "any weapon" that can fire "more than one shot" with "a single function of the trigger." Thus, the ban includes all types of automatic firearms, including machine guns, submachine guns, and assault rifles. These are the types of guns commonly used by armed forces.
The 1986 ban, which is still in effect, has an exception for guns legally owned before the law was enacted, but because automatic firearms have been heavily regulated since 1934, less than 4 million are currently owned by civilians. The relative rarity and strict regulation of these weapons are highlighted by a 2016 U.S. Department of Justice study that found "no evidence that" any owner of an automatic gun was convicted of using one to commit a crime from 2006 through 2014.
The primary purpose of the 1986 law was to reduce mass shooting deaths by limiting the availability of weapons with rapid rates of fire. As explained in the book Military Technology, "A machine gunner's weapon fired hundreds of bullets each minute. He could point the weapon in the general direction of his enemy and fire. Even poorly-trained shooters could hit their targets. Automatic weapons made war a far more deadly business."
Nevertheless, the portion of the U.S. population killed in mass shootings (defined in academic literature as those in which four or more people are killed), didn't decline in the wake of the law: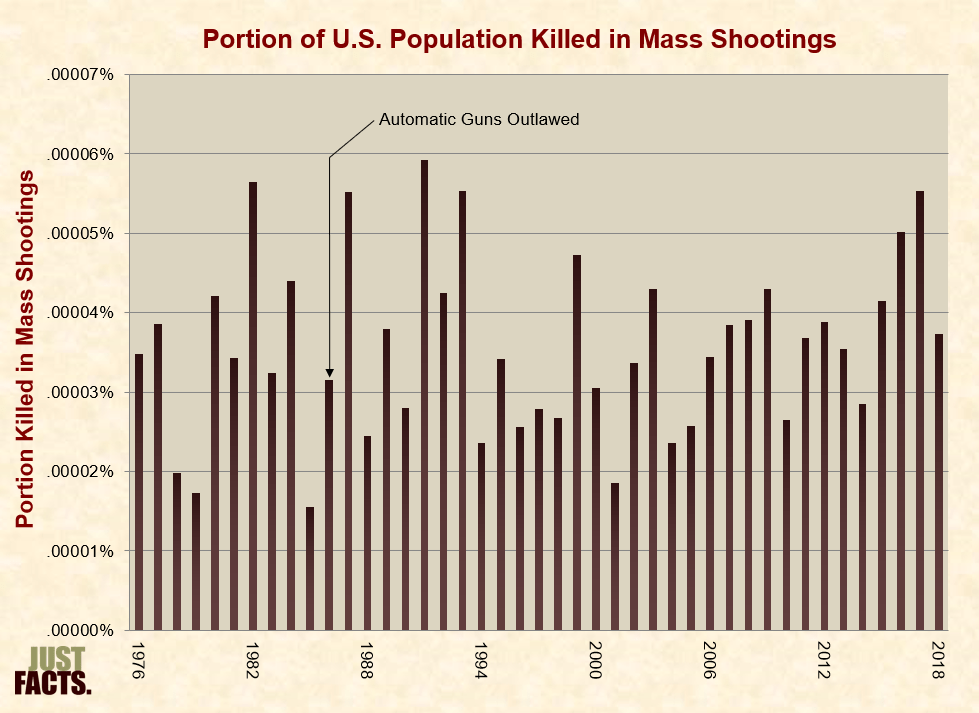 Semi-Automatic "Assault Weapons" Were Banned From 1994–2004

Less than a decade after banning automatic weapons, Congress passed and President Clinton signed a 1994 law that made it illegal to "manufacture, transfer, or possess a semiautomatic assault weapon." These guns often look like military firearms and share some characteristics with them (like detachable magazines and pistol grips), but they lack their defining feature: the ability to fire multiple bullets with a single trigger pull.
For that reason and the fact that these guns are used for hunting and home defense, firearm specialists typically don't call them "assault weapons" but describe them as:
"modern sporting rifles,"
by their make/model (like "AR-15"), or
with functional descriptors like "semi-automatic rifle."
Nevertheless, the politicians who sponsored the 1994 law labeled these semi-automatic guns "assault weapons." This term sounds very similar to "assault rifles," which happen to be the most common firearms used by soldiers and terrorists.
The lawmakers' decision to use those easily confused terms accords with a 1988 booklet written by Josh Sugarmann, the founder of a prominent gun control organization called the Violence Policy Center. In it, he wrote about the "new topic" of "assault weapons" and laid out this strategy for banning them:
The weapons' menacing looks, coupled with the public's confusion over fully automatic machine guns versus semi-automatic assault weapons—anything that looks like a machine gun is assumed to be a machine gun—can only increase the chance of public support for restrictions on these weapons.
TAKE ACTION
Are you concerned about election integrity? What informed United States citizen isn't? Did the 2020 national election raise many questions about election integrity? Are you concerned about the current cycle of primaries and then the general election in November? No doubt the answer for The Prickly Pear readers is YES.
Click below for a message from Tony Sanchez, the RNC Arizona Election Integrity Director to sign up for the opportunity to become an official Poll Observer for the 8/2 AZ Primary and the 11/8 General Election in your county of residence. We need many, many good citizens to do this – get involved now and help make the difference for clean and honest elections.
https://thepricklypear.org/wp-content/uploads/lying-nose.jpg
347
496
James D. Agresti
https://thepricklypear.org/wp-content/uploads/logo_v12_404x90.png
James D. Agresti
2022-06-18 02:00:18
2022-06-17 10:22:36
There's No Objective Evidence the Federal "Assault Weapons" Ban Saved Lives