WOOSH, Shock-and-Awe Loss of Dollar Purchasing Power Hits Americans. Worst Inflation in 40 Years. Getting it Under Control Will Be a Bitch
Estimated Reading Time:
< 1
minute
Inflation for Urban Wage Earners & Clerical Workers (CPI-W) = 7.6%. Fed is still pouring fuel on the raging fire. Most reckless Fed ever.
The broadest Consumer Price Index (CPI-U) spiked by 0.8% in November from October, and by 6.8% from a year ago, the highest since June 1982, according to data released by the Bureau of Labor Statistics today.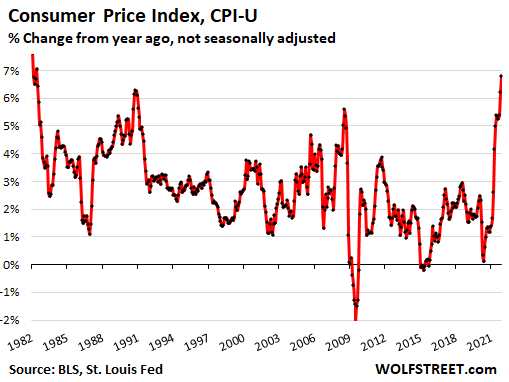 But it gets better. The Consumer Price Index for All Urban Wage Earners and Clerical Workers (CPI-W), the index upon which the Social Security COLAs are based, spiked by 7.6% in November year-over-year — exceeding even Mexico's soaring inflation rate — and the worst since January 1982.
But in January 1982, inflation was coming down; now inflation is surging. At the time, the Fed's short-term interest rates were over 13%; now they're still near 0%, and the Fed is still printing $105 billion in the current period from mid-November through mid-December, though it will reduce the money printing further.
Nearly all interest rates and yields, including on risky junk bonds, are now negative in real terms. This – the Powell Fed that unleashed this monster and has been feeding it month after month – has got to be the most reckless Fed ever.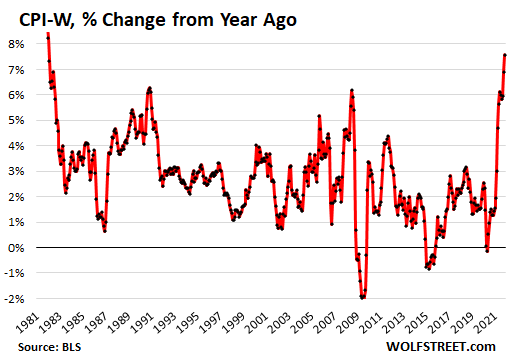 Inflation without food and energy – OK, Americans, go ahead and try to live without food and energy – spiked by 4.9%, the most since June 1991. This shows how embedded inflation is now in the economy beyond energy, and it has started to hit services, which is hard to explain away by jabbering uselessly about "bottlenecks and shortages."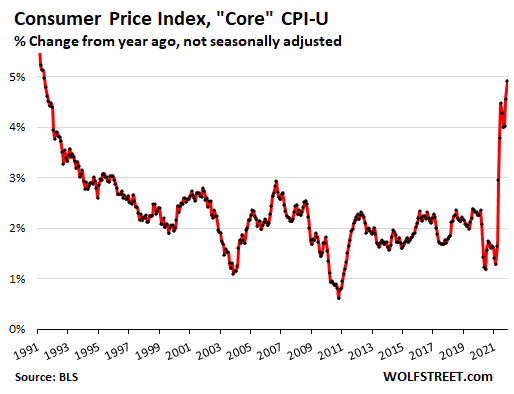 Inflation in consumer prices is another term for the loss of the purchasing power of the consumer's dollar. In November, the purchasing power of what was $1 in January 2000 dropped to 60.81 cents: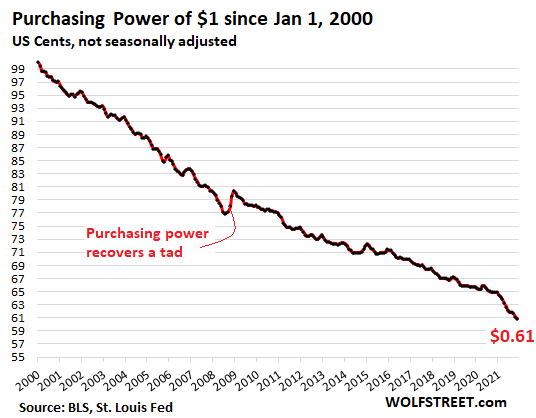 *****
Continue reading this article at Wolf Street.
TAKE ACTION
Are you concerned about election integrity? What informed United States citizen isn't? Did the 2020 national election raise many questions about election integrity? Are you concerned about the current cycle of primaries and then the general election in November? No doubt the answer for The Prickly Pear readers is YES.
Click below for a message from Tony Sanchez, the RNC Arizona Election Integrity Director to sign up for the opportunity to become an official Poll Observer for the 8/2 AZ Primary and the 11/8 General Election in your county of residence. We need many, many good citizens to do this – get involved now and help make the difference for clean and honest elections.
https://thepricklypear.org/wp-content/uploads/Jerome-Powell-Ricolli-400.jpg
441
400
Wolf Richter
https://thepricklypear.org/wp-content/uploads/logo_v12_404x90.png
Wolf Richter
2021-12-15 08:00:13
2021-12-14 11:45:29
WOOSH, Shock-and-Awe Loss of Dollar Purchasing Power Hits Americans. Worst Inflation in 40 Years. Getting it Under Control Will Be a Bitch