Home Sellers Are Coming Out of the Woodwork: New Listings, Unsold Inventories & Supply Rise
Estimated Reading Time:
2
minutes
Sales edge up, after sagging for months, amid Crazy Spiking Prices
Inventories of existing single-family houses, condos, and co-ops rose for the fourth month in a row. Sellers are coming out of the woodwork, and new listings have been rising for months, this being a perfect time to sell a home. Sales ticked up a tiny bit from the prior month, after months of sharp declines that worked off the entire Pandemic spike. And prices spiked to high heaven. That's the housing market in June, according to data from the National Association of Realtors today.
Sales of existing homes of all types ticked up 1.4% in June from May, after the prior steep declines, to a seasonally adjusted annual rate of 5.86 million homes, below July 2020, the month when the pandemic spike in home sales began, having now mostly unwound the spike that started last summer (historic data via YCharts):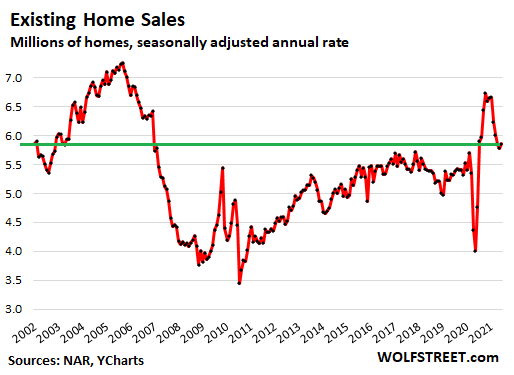 Sellers are now gradually coming out of the woodwork. There may have never been a more perfect time to sell a home: Prices have spiked amid clickbait stories in the media of crazy bidding wars where FOMO-driven buyers bid up no-matter-what, sight-unseen, inspections waived, and sellers can get away with anything. For buyers, this is a perfect time to make a terrible deal. But who cares. For sellers, it's ideal. And sellers are starting to see it that way.
New listings rose by 11% in June, from May, when they normally, in the pre-pandemic years, declined from May, May being the seasonal peak of the year for new listings. But not this year: 446,600 new homes were listed for sale in June, up 11% from May, and the most since September 2019, according to the realtor.com residential listings database (the Junes are connected by a green line):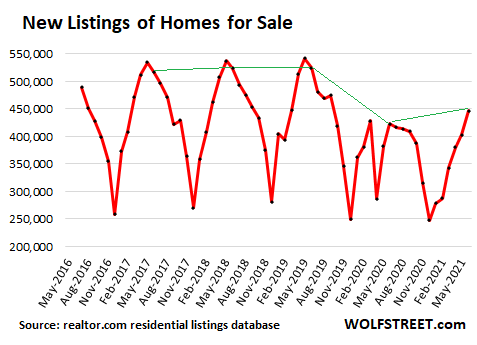 Total inventory of unsold homes on the market rose 3.3% in June from May to 1.25 million homes, the fourth month in a row of increases. Inventories are still very low, but are at the highest level since last November….
*****
Continue reading this article at Wolf Street.
TAKE ACTION
As we move through 2023 and into the next election cycle, The Prickly Pear will resume Take Action recommendations and information.
https://thepricklypear.org/wp-content/uploads/istockphoto-157525765-170667a.jpg
340
510
Wolf Richter
https://thepricklypear.org/wp-content/uploads/logo_website_2022_v3_400x61.png
Wolf Richter
2021-07-25 01:00:16
2021-07-24 15:03:33
Home Sellers Are Coming Out of the Woodwork: New Listings, Unsold Inventories & Supply Rise