Stock Market Leverage in La-La Land, Rises to Historic WTF High
Estimated Reading Time:
2
minutes
Archegos shows how leverage is the great accelerator of stock prices on the way up, and on the way down. One of its bets, ViacomCBS, after skyrocketing, collapsed by 60%.
Vast, unreported, and at the time unknown amounts of leverage blew up Archegos Capital Management, dishing out enormous losses to its investors, the banks that brokered the swaps, and holders of the targeted stocks. The amount of leverage became known only after it blew up as banks started picking through the debris. ViacomCBS [VIAC] was one of the handful of stocks on which Archegos placed huge and highly leveraged bets, thereby pushing the shares into the stratosphere until March 22, after which they collapsed by 60%.
Archegos is an example of how leverage operates: It creates enormous buying pressure and drives up prices as leverage builds, and then when prices decline, the leveraged bets blow up as forced selling sets in. Most of the leverage in the markets is unreported until it blows up. The only type of stock-market leverage that is reported is margin debt – the amount that individuals and institutions borrow against their stock holdings as tracked by FINRA at its member brokerage firms. Margin debt is an indicator for overall leverage, and it has reached the zoo-has-gone-nuts level.
FINRA reported on Friday that margin debt jumped by another $9 billion to $823 billion in March, having soared by $163 billion in five months, and having exploded by 72% from March 2020 and by 51% from February 2020 to historic WTF highs: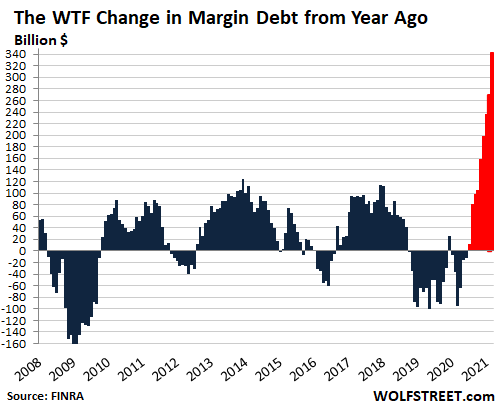 Archegos is an example of how leverage is the great accelerator of stock prices, on the way up, and on the way down. Its massive bets on a handful of stocks, powered by huge leverage, drove up prices of those stocks because it created buying pressure with borrowed money. As prices rose, Archegos could borrow more to increase its bets. And then suddenly, when these stocks started selling off because other investors got out, Archegos got the margin calls, and leverage became the great accelerator on the way down.
While we don't know how much total stock market leverage there is, we can look at margin debt as a measure of the trend. And the trend has reached whopper proportions. History shows that a big surge in margin balances preceded – and perhaps was a precondition for – the biggest stock market declines: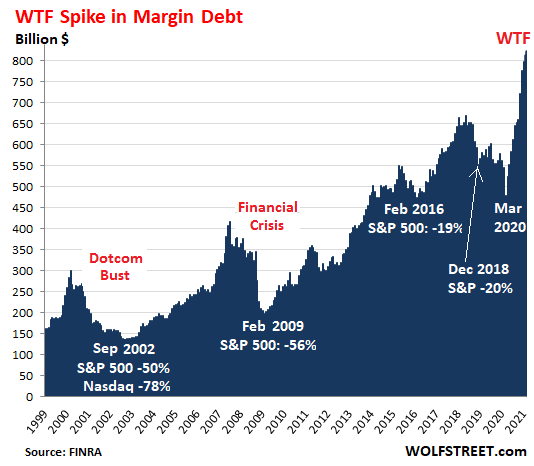 *****
Continue reading this article published April 17, 2021 at Wolf Street.
TAKE ACTION
Are you fed up? Are you worried that America in rapidly sliding into a neo-Marxist state by the radical left in control of Washington with historically narrow majorities in the U.S. House and Senate and an Executive controlled by unnamed far leftists in place of a clinically incompetent President Biden? They are desperate to keep power and complete their radical progressive agenda that will change America and our liberty forever.
Americans just witnessed the passage of the Inflation Reduction Act of 2022 without one Republican vote in the U.S. Senate and House (just as Obamacare was passed in 2010). The IRS  will be hiring 87,000 new agents, many armed, to terrorize American taxpayers.
Americans witnessed the FBI raid at the Trump Mar-A-Lago home and property of President Trump, truly a first in all of American history. We know what that is about. 
It is undeniable that the Democrat Party and the administrative state (the executive branches of the DOJ, FBI, IRS, et al) are clear and present dangers to our Republic and our liberty as they increasingly veer further away from the rule of law and the Constitution. What is the solution? At this critical juncture, there is only one action we can all take.
The only viable and timely solution at this critical point is to vote – yes, vote correctly and smartly to retake the U.S. House and Senate on November 8th and to prepare the way to retake the White House in two years. Vote and help everyone you know to vote. Please click the TAKE ACTION link below – we must vote correctly and in great numbers to be sure our votes are counted to diminish the potential for the left to rig and steal the midterms and the 2024 elections as they are clearly intending to do after their success in 2020.
https://thepricklypear.org/wp-content/uploads/photo-1468254095679-bbcba94a7066.jpg
901
1349
Wolf Richter
https://thepricklypear.org/wp-content/uploads/logo_v12_404x90.png
Wolf Richter
2021-04-18 08:51:39
2021-04-18 09:13:23
Stock Market Leverage in La-La Land, Rises to Historic WTF High