State of the American Debt Slaves: Borrowing More to Buy Less due to Raging Inflation
Estimated Reading Time:
2
minutes
Credit card balances up 3.0% from March 2019, but CPI inflation up 13%, LOL. Auto sales plunged, but auto loans jumped. You guessed it, ridiculous price increases.
Credit card balances ticked up 1.9% in March from February, not seasonally adjusted, to $1.036 trillion, according to the Federal Reserve today. Compared to three years ago, March 2019, the last March before the pandemic, this was up by only 3.0%.
In other words, credit card balances are now just 3% higher than there were three years ago, after three years of inflation, including raging inflation for the past 12 months that increased the prices of nearly everything that consumers buy with their credit cards.
Over the three years, during which credit card balances rose a total of 3%, CPI inflation jumped by 13%. In other words, even credit card borrowing cannot keep up with this raging inflation, LOL, and that their credit card debts, the most onerously expensive debt, are growing more slowly than inflation over the long term is for once a good thing for the American debt slaves: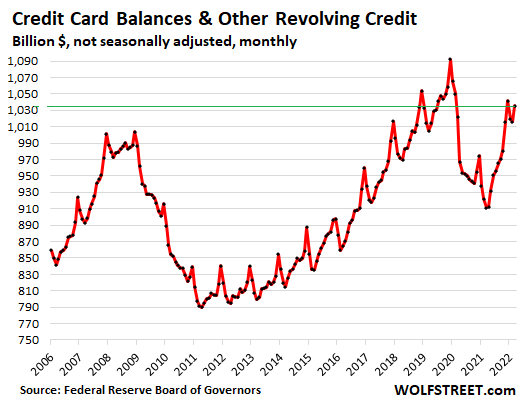 Note in the chart above how consumers paid down their credit cards and other revolving credit during the first 12 months of the pandemic, and then they started charging again, gradually getting back to where they'd been on a nominal basis, but never catching up with inflation and a "real" basis.
Seasonal adjustments galore.
Consumer spending is very seasonal, and so is the usage of credit cards. Balances peak in December every year and fall off in January and February. Massive seasonal adjustments are used to smooth this out. In March, these seasonal adjustments added $62 billion to the revolving credit balance and pushed the figure up to $1.097 trillion, seasonally adjusted, up by 2.9% from February.
This chart shows the actual revolving credit balances (red line) and the seasonally adjusted revolving credit balances (green line):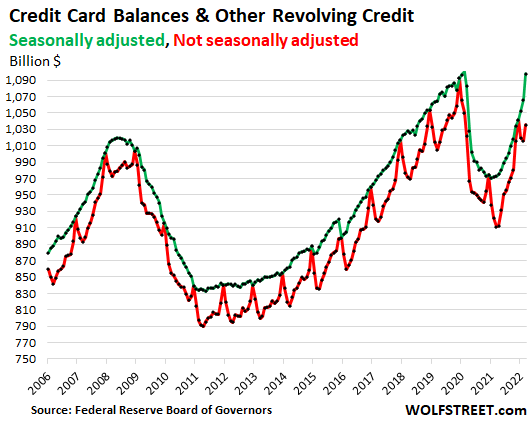 Auto loans and leases in the first quarter – this is quarterly data, not monthly – jumped by 1.6% from Q4 and by 7.6% year-over-year, to a record 1.34 trillion, according to the Federal Reserve today.
*****
Continue reading this article at Wolf Street.
TAKE ACTION
Are you fed up? Are you worried that America in rapidly sliding into a neo-Marxist state by the radical left in control of Washington with historically narrow majorities in the U.S. House and Senate and an Executive controlled by unnamed far leftists in place of a clinically incompetent President Biden? They are desperate to keep power and complete their radical progressive agenda that will change America and our liberty forever.
Americans just witnessed the passage of the Inflation Reduction Act of 2022 without one Republican vote in the U.S. Senate and House (just as Obamacare was passed in 2010). The IRS  will be hiring 87,000 new agents, many armed, to terrorize American taxpayers.
Americans witnessed the FBI raid at the Trump Mar-A-Lago home and property of President Trump, truly a first in all of American history. We know what that is about. 
It is undeniable that the Democrat Party and the administrative state (the executive branches of the DOJ, FBI, IRS, et al) are clear and present dangers to our Republic and our liberty as they increasingly veer further away from the rule of law and the Constitution. What is the solution? At this critical juncture, there is only one action we can all take.
The only viable and timely solution at this critical point is to vote – yes, vote correctly and smartly to retake the U.S. House and Senate on November 8th and to prepare the way to retake the White House in two years. Vote and help everyone you know to vote. Please click the TAKE ACTION link below – we must vote correctly and in great numbers to be sure our votes are counted to diminish the potential for the left to rig and steal the midterms and the 2024 elections as they are clearly intending to do after their success in 2020.
https://thepricklypear.org/wp-content/uploads/hamsterwheel.jpg
339
505
Wolf Richter
https://thepricklypear.org/wp-content/uploads/logo_v12_404x90.png
Wolf Richter
2022-05-11 01:55:09
2022-05-09 06:43:25
State of the American Debt Slaves: Borrowing More to Buy Less due to Raging Inflation