WHOOSH Goes the Dollar's Purchasing Power in January as Inflation Now Infests Services
Estimated Reading Time:
2
minutes
Inflation burns out of control, but the Fed is still pouring fuel on it. You can no longer just blame supply chains. This is far bigger.
OK, the Fed and American consumers and wage earners have, excuse the technical jargon here, a serious-ass problem on their hands that has just gotten worse. The broadest Consumer Price Index (CPI-U) jumped by 0.6% in January from December, and by 7.5% from a year ago, the worst since February 1982, according to data released by the Bureau of Labor Statistics today.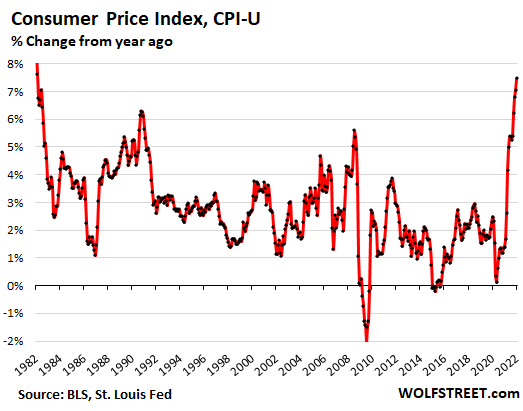 The narrower "core" CPI-U, which removes the volatile commodities-dependent food and energy components from the measure to show how inflation has seeped into the broader economy, spiked to 6.0%, the highest since August 1982: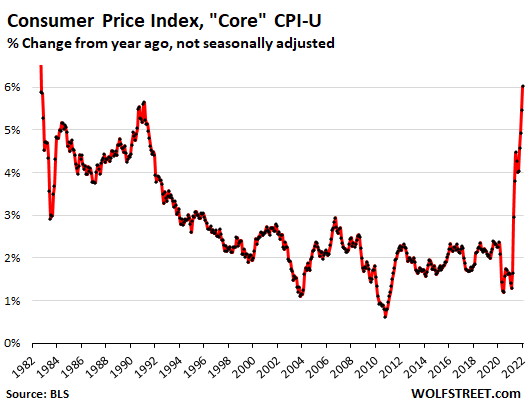 But back in 1982, Volcker was cracking down, interest rates were in the double digits, and inflation was heading lower.
Now, Powell has the foot still on the gas by still buying assets though at a slower pace, and by still repressing interest rates to near-zero.  The last time inflation spiked in this glorious manner was in 1978, but the Fed back then was pushing the federal funds rate toward 10%. Now the Fed is still repressing the federal funds rate to near 0%, which makes this Fed the most reckless Fed ever.
And folks, it's no longer just supply chains, labor shortages, chip shortages, factories in China, used cars, and new cars.
It's services that have begun to spike. The CPI for services spiked by 4.6% year-over-year, with big price increases now infesting every part of the economy: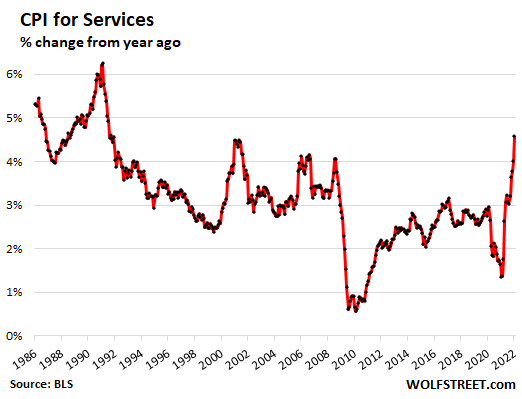 The loss of the purchasing power of the consumer's dollar – the politically incorrect term for inflation – worsened by 0.8% in January from December, and thereby the purchasing power of wages and salaries dropped by as much. The purchasing power of $100 in January 2000 has dwindled to $60.10, losing another 50 cents over the past 30 days: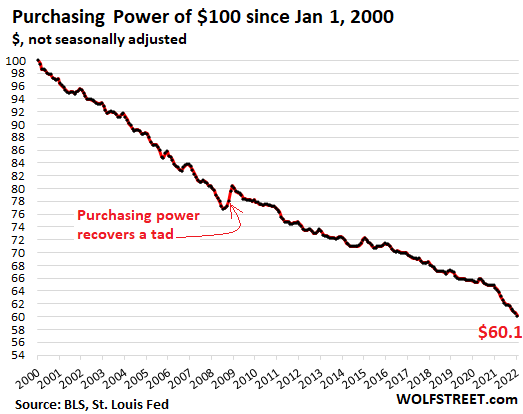 *****
Continue reading this article at Wolf Street.
TAKE ACTION
Are you concerned about election integrity? What informed United States citizen isn't? Did the 2020 national election raise many questions about election integrity? Are you concerned about the current cycle of primaries and then the general election in November? No doubt the answer for The Prickly Pear readers is YES.
Click below for a message from Tony Sanchez, the RNC Arizona Election Integrity Director to sign up for the opportunity to become an official Poll Observer for the 8/2 AZ Primary and the 11/8 General Election in your county of residence. We need many, many good citizens to do this – get involved now and help make the difference for clean and honest elections.
https://thepricklypear.org/wp-content/uploads/iStock-939248364-scaled.jpg
1707
2560
Wolf Richter
https://thepricklypear.org/wp-content/uploads/logo_v12_404x90.png
Wolf Richter
2022-02-14 02:05:10
2022-02-14 08:46:44
WHOOSH Goes the Dollar's Purchasing Power in January as Inflation Now Infests Services